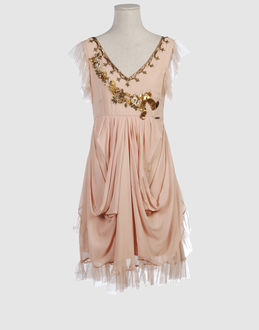 Ran across this info and thought I would pass it along. Since not everyone knows what they are buying ... if you are buying true Vintage clothes here are some tips to make sure your purchase is worth the $$$$$:
Fur: Check that the hairs are firmly attached to the pelts hide and that there is no molting or flaking on the surface;
Lingerie - Check for stains (i.e., coffee, lipstick, etc.) that cannot be removed. If the color is off -- you can always die it another color
Clothes - Pieces from the sixties or earlier usually contain extra fabric in the sames which allows you let your garments out (YAHOO!)
You can change a dress neckline or length to make it look more current.
Remember that if there are 3 things that need to be fixed, you are better off finding something similar that requires less work.
If buying online rquest photo's of the item's label, inside seam and if a purse the hardware and corners.
If buying new ... it's not hard to find some great deals on the net. Retro is "in" right now. From high end to low ... you can find the styles. Check out Yoox.com
(they carry alot of designer clothes and one of a kind jewelry); Alloy (for thinner wallets); Coast (I'm lovin' Coast -- they have fabulous dresses) and Manhattanite, jut to name a few.